So much has changed and continues to evolve with workforce. A short list includes unfilled positions, shifting expectations for work flexibility, the impact of the COVID pandemic, generational differences, and more.  
The great resignation continues, as 44% of workers are still considering quitting their job (2022 FlexJobs research). Retaining your current employees is more important than ever. And while a pay increase is always appreciated, retention starts by genuinely working to deeply understand your employees' needs.  
What encourages employees to stay?
We have trended research since 2015 with our Iowa Opinion Panel asking them what is important when they seek a new job and what keeps them in their current job.  In 2021, we compared results to the first year in 2015 and found some interesting differences.  Some of the aspects we tested stayed statistically the same.  Those that increased in importance included:
Work schedule flexibility
Annual salary
Amount of PTO
Their supervisor (this had the largest increase)
Here are the top seven aspects with most importance to keeping an employee in their current company o company, out of 20 aspects tested.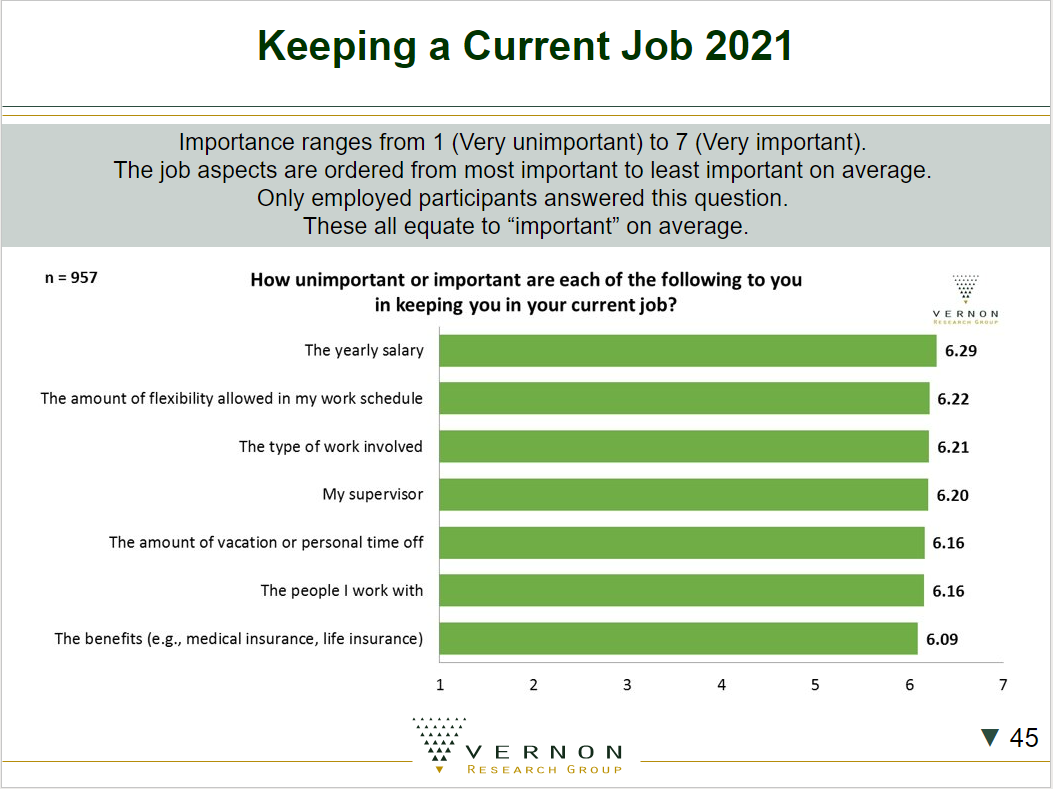 Checking in with your employees
If you don't talk to your employees on a regular basis, now is a good time to obtain feedback from them. The best way to gain feedback will vary depending on the size of your staff, challenges in your industry, your organizational structure, and other factors. Many companies use employee surveys, which provide several advantages, including: 
Easily analyzed data

 

Results that can be trended over time

 

A private way for employees to share feedback

 

Quick and efficient administration 

 
Sometimes, however, small group discussions or individual interviews can reveal more helpful—and sometimes surprising—insights. This type of qualitative approach offers benefits such as: 
Allows for the discussion of fine-grain topics it would be hard to explore in a survey

 

Gives those in management or sensitive positions an opportunity to share their viewpoints in a private manner (interviews)

 

Gives employees opportunities to react to and build on colleagues' remarks (in focus groups)

 

Provides the opportunity to probe answers to understand what is behind perceptions or needs

 
A robust, mixed-methods approach can provide both key data and rich insights. This approach may be suitable if it has been a long time since you conducted employee research.  The qualitive research findings can be validated with a quantitative tool such as a survey. 
Ensuring research success
People can sometimes experience survey fatigue if you conduct a employee surveys often or may hesitate to participate in an employee focus group. There are several ways, however, to increase thoughtful participation by your employees. These include: 
Communicate the value of the research to the whole organization, noting that honest employee feedback is key to growth and success for all

 

Share top-line results after the research is completed with all employees – this is critical

 

Have a plan ready for how management and representative groups of employees will dive into the results and develop action plans based on it

 

Communicate progress or changes made based on the research

 

Provide time during the workday for employees to participate in the research

 

Consider holding a drawing for participants – an extra day of PTO is always popular and effective

 

Consider having a third party administer your research – this increases participation because employees feel more confident that their personal responses are not known to their employer

 
The events since 2019 has altered work and life as we knew it. This is a smart time to engage in meaningful conversations and feedback with your employees in a fresh and earnest way. Take time to consider what methods are best for your organization, and customize a program that will be embraced by employees and deliver actionable findings.